Flex-Office, HotDesk, state of practices, pros and cons
with Delphine Minchella, PhD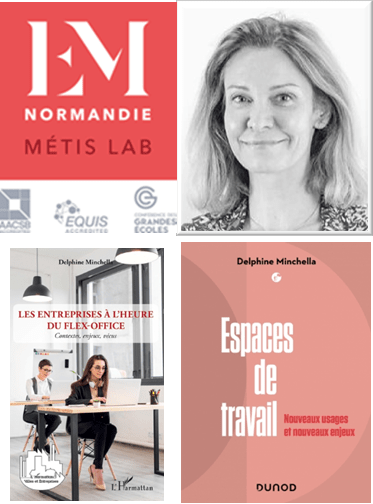 Delphine MINCHELLA
· Author of: « Les entreprises à l'heure du flex-office , contexte, enjeux, vécus », l'Harmattan and « Espaces de travail, nouveaux usages et nouveaux enjeux », Dunod
· Teacher-researcher connected to the Métis Lab
· Doctor in management sciences (Paris-Dauphine)
· Academic Director at EM (Ecole de Management) of Normandie (FR)
Her doctoral thesis focused on the role of spatiality in managerial change
To be published in 2023 in collaboration with Bourdin, S, 'La lutte des places : étude des comportements des top-managers pour maintenir leur privilège spa­tial', International Journal of Psychosociology and Management of Organisational Behaviour – Revue Internationale de Psychosociologie et de Gestion des Comporte­ments Organisationnels (RIPCO)
The One, MO15, BRE2, B-28, CSM1, PLB3, L51… All in hotdesking!
Colleagues were handed a fait accompli when confronted with a building policy implemented by the OIB without any real involvement of the colleagues concerned nor of their representatives, thus neglecting the Health, Quality of Life and Working Conditions of staff!
And, without ever considering the results of similar experiences in the Member States and the lessons learned from the best specialists in the field.
For R&D, it is urgent to tackle this issue with the utmost rigour and to take into account the latest studies and best practices regarding these new workspaces, their uses and the issues at stake, thus demonstrating the lack of validity of the so-called indisputable truths that the Director of the OIB declares with the utmost assertiveness whenever staff representatives dare to question his positions.
For these reasons, R&D called upon Delphine MINCHELLA, PhD, a recognised expert in the field whose work and publications focus on work spaces (flex office).