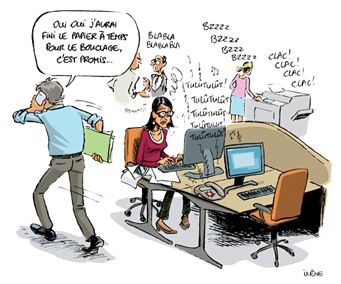 By demonstrating sensitivity and a commitment to inform (albeit ex-post) that other Directors-General have not shown, Mr. Lemaitre, Director of PMO, invited,, all Office employees to attend an information meeting on 15th April to present them their new workspace.
Naturally, we were once again in the after-sales service to the extent that the decision was already made and it was only matter of selling it properly to sweeten this pill.
Only a minority of staff went to the great hall of Charlemagne! Are you surprised???
R&D, as well as the other OSP were able to attend as observers.
The dream of a new luxury resort in the heart of the European Quarter …
To this end and in order to sell all the merits of these revolutionary work spaces, the official responsible for the setting up of CSM1″open spaces" came there in person to present a little explanatory video …
The CSM2, located in an upscale and leafy area, served very well  by public transport, with a small range of nearby businesses offering unbeatable prices, will undergo a thorough renovation in accordance with the standards laid down for granting 6 stars to hotels and will be equipped with 119 internal parking places and 24 outside parking places. Although it was not clearly indicated, it seems that staff will found valets at the car park entrance, who will park and even wash their cars.
Amazed by the explanations given, right after the meeting, a number of colleagues have asked the OIBP (Office Initiators of open-plan offices) if they move into those spaces and spend their holidays with their families, because the comfort was far superior to that of a luxury spa.
We have just been informed that the Bongo Company decided to add to its Health and Well-being  Catalogue, "CSM2" vouchers and the success was such that they are already out of stock!
After such a powerful presentation, more than a caricature…, what more can you ask for?
The truth of the facts …
The truth is that colleagues, puzzled by all the talk, were presented  with a fait accompli. One more time!
They therefore called upon R&D in order to work in optimal conditions, appropriate to the requirements of their function.
We also wish to recall that already last year, PMO has faced a negative experience when installing Open offices at SC27 and Route d'Arlon (if it is Brussels, surely Rue d'Arlon). Although only  a small minority of colleagues were concerned, these projects had already caused enormous dissatisfaction. The CPPT and the Local Staff Committee had to intervene several times.
Today, all PMO staff is concerned!  There is a need for a great deal of thought!
R&D advises Mr. Lemaître to take as an example Mr  S. Quest, Director General of DG TAXUD, to whom it had already been proposed the CSM2 in "open space".
Indeed, the Director-General of DG TAXUD's  had decided  to forego the transfer of its staff by recognizing that, as R&D had indicated, this project required extensive discussions with the staff as well as further reflection to conclude a common agreement.
It is important that the space allocated to each is in accordance with the duties performed, taking into account various aspects such as confidentiality, external contacts, the need for concentration … and health status, if applicable.
The "take it or leave it" choice proposed by OIBP
OIBP's  role is to carry out the projects submitted by the Directorates-General and not to impose the widespread use of open-plan offices by offering absolutely unacceptable alternative to scatter the staff of a DG on a wide range of buildings … with the sole purpose being to force the DG to suffer the consequences of their choice
We believe that, if ever a Director-General should firmly refuse to accept such an approach, OIBP would be perfectly able to offer him or her, as an alternative, to displace half of its staff to the North Pole and the other half to the South Pole …, while stressing that it would be impossible to convince STIB to take this into account in the route of bus 21!
It is necessary that the institution takes control of its building policy by returning OIBP to its role of implementing the strategic decisions of the Commission.
Mr. Lemaître, you are the only Master of the decision to be taken, so that your staff can benefit from better working conditions. Listen to them! Open the dialogue! You can only come out of the process as a winner!