AT THE HEART OF THE ACTION
R&D Council and R&D Committee of the Regions
win the statutory elections!
R&D federal consolidates its role of Leading Union at the level of all institutions!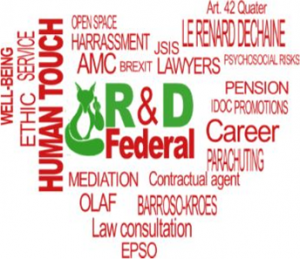 Congratulations to R&D Council for its fourth consecutive victory in the election to the Staff Committee
We are pleased to announce the stunning victory of 26 seats out of 30, 8 seats more in comparison with the previous elections, of R&D Council  in the elections for the Staff Committee, which consolidates our role not only with our colleagues in the Council but also with all the colleagues in the European Union, through our commitment to R&D Federal.
Congratulations to R&D Committee of the Regions
On the occasion of these elections, R&D chose to meet the challenges of tomorrow by drawing up a joint list with all other union forces which were present and with some non-union colleagues.
Thanks to the results obtained by its candidates, as in EESC, R&D confirms its role as the leading union within the Committee of the Regions.
R&D federal, leading interinstitutional Union, defends a single set of Staff Regulations and the legal obligation to ensure their consistent implementation by all institutions
This therefore requires a strong and qualified presence within each institution and agency, which allows us to:
Þ Ensure consistent application of the Staff Regulations and their implementing procedures
Þ Negotiate the best conditions for staff,
Þ Reinforce cohesion and unity of action with other unions,
Þ Establish best practices,
Þ Report abusive approaches.
This need for coordination is all the more essential for the staff of our institution. As R&D denounced repeatedly DG HR decided to penalize Commission colleagues, by applying the Staff Regulations in a more restrictive way compared to the other institutions.
R&D Federal is above all a community of values!
Defending the rights of the colleagues, the equality of treatment, the transparency of procedures, fighting against abuses … always at the heart of the R&D ac­tion
Within each institution and in all places of employment, we demand transparency of procedures, we oppose abuses and "parachuting" …. we defend the rights of colleagues by also offering the help of a pool of specialized lawyers to guide, help and serve you better.
Solidarity at the heart of R&D action        
Solidarity being the foundation of our joint action, we do not spare our efforts to assist and defend our colleagues in precarious situations, without ever making deceptive promises, nor playing demagoguery.
Our commitment remains the same: to justify the trust shown by our colleagues and report on our actions at all times.
We are all the more proud that those results were obtained without renouncing our common values which are at the heart of the activities of all sections of R&D.
Commitment, Determination, Success… R&D, it's a Human touch at the service of all Staff!