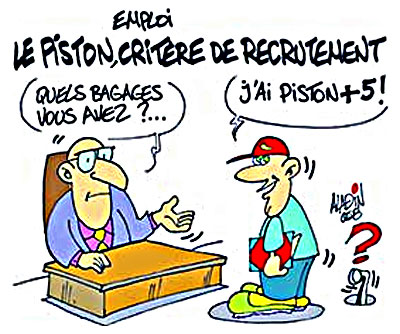 With its new programme "Young – Junior Professionals" DG HR organises a more than easy access to AD posts for a handful of "elected" trainees as well as for some privileged CA-FG IV and TA-AD selected exclusively on the "fait du prince" (or princess) basis, thus opening the door wide to favouritism and nepotism.
Meanwhile R&D continues to defend all colleagues and offers ALL trainees FREE TRAINING COURSES to help them prepare for EPSO competitions and selections, so that they can integrate our civil service with dignity and without having to pull a few strings!
Our line of conduct: TRANSPARENCY, SOLIDARITY and EQUITY.
R

&

D has always stood up for transparency in the selection of Bluebook trainees and for providing them the best support within our services.
R&D has always appreciated the qualities and the commitment of the hundreds of trainees we welcome every six months in our services.
Faithful to our principles and in view of the significant difficulties established in the past in the service responsible for the selection of trainees, we have provided assistance to colleagues who, after having reported serious malfunctions, have been shamefully left to their fate by the Administration and by IDOC, often for long months and sometimes with serious consequences.
Likewise, we have requested that our institution ensures an irreproachable selection and guarantees dignified working conditions for trainees as well as the necessary support throughout their presence in the institution.
In this respect, among our members, many are those who ensure with passion the selection of applications and the responsibility of supervising their Bluebook trainees.
They always tell us about the excellence, the European commitment, the enthusiasm and the dedication of these young colleagues. This is why they invited us to assist them in their preparation for competitions and selection procedures so that they can join our public service through clear procedures.
Transparency, fairness, equality of treatment that our trainees and all other colleagues are entitled to expect from our institution … quite the opposite of what DG HR proposes with its "Young-Junior Professionals" programme, namely a triumph of unfettered power and opening the door wide to favouritism and nepotism!
In our communication of 8 March 2017 (read) we have already expressed all our criticisms concerning the delirious project entitled "Young Professionals" secretly concocted by DG HR.
Indeed, not satisfied with having become the helpful kingpin always ready to accompany all "parachuting" and questionable appointments and to organize internal competitions "adapted" to ensure soft "landing" of cabinet members, DG HR could not do better than invent this new programme.
As a result of our criticisms and the opposition from other unions but also from DGs, DG HR has slightly reconsidered its position … it is no longer named "Young Professionals" but "Junior Professionals Programme" (read).
Notwithstanding some significant new features such as the mobility of candidates between two DGs while participating in an apprenticeship and development programme organized by the European School of Administration, namely the draft of an integration programme that R&D has always requested to be put in place at the Commission for all new officials, the approach remains absolutely unacceptable.
Indeed, it is still all about enabling a handful of Bluebook trainees (about ten of the 900 hosted per semester!) and a few CA-FG IV and TA colleagues (30 persons in total), selected without any real guarantee for transparency and equal treatment, to become permanent officials. To these "elected" will be added 10 young AD5 officials … who will be able to appreciate how it can be simple and practical to become AD officials without having to go through a long and painful procedure as the general competition they have just succeed.
As many of you have told us, the obvious risk is the triumph of the principle "buddies first", the "fait du prince" – or princess – that DG HR strives to apply again as the founding principle of its action.
And in this way, DG HR plans to recruit not less than 20 % of our future AD colleagues! While thousands of candidates will be asked to succeed / register for long and ultra selective external competitions!
It is also reassuring to note that DG HR, faithful to its priorities, has already planned everything in the event that one or more of the selected trainees would be assigned to a cabinet. For all intents and purposes … because you never know … as luck would have it … DG HR is therefore careful to clarify that if ever, in such a case … the selected trainees would then be "parachuted" as CA-FG IV in the DG placed under the responsibility of the cabinet concerned, thus ensuring the equality of treatment with the other cabinet members "parachuted" in their turn!
R

&

D shares the anger of the staff!
How can we not share the anger of colleagues who tell us of their disgust at an administration capable of producing slogans but incapable of putting an end to social dumping in our services and imposing an effective human resources policy which meets their expectations? In order to realise the extent and the merits of these criticisms just take note of the tens of outraged comments already posted, in minutes, by colleagues on "myintracom" following the publication of the "Junior Professionals" programme.
How can we stay indifferent to the outrage of our CA colleagues?
To these colleagues, systematically recruited into function groups far below their real missions and therefore structurally excluded from this programme, DG HR constantly reminds the very strict limits imposed by the Staff Regulations on internal competitions open to CA and in particular the maximum rate of 5% for their recruitment.
However, we note that, precisely to escape these constraints, within the framework of this "Junior Professionals" programme, DG HR proposes, before organizing an internal competition, to award TA-AD contracts to the few trainees and to the CA-FG IV that will be selected.
How can we stay indifferent to the outrage of our AST and AD colleagues?
How can we not share the outrage of our AST and AD colleagues, confronted with the constraints and the limits of the procedure of certification and / or having passed very selective general competitions, vis-a-vis this more than arranged gateway to reach straightaway AD official jobs?
How can we stay indifferent to the indignation of our trainee colleagues who won't be eligible or have chosen an executive agency?
Indeed, they now discover that they are ineligible for this programme, although of course this was absolutely unknown when they chose to do their internship at an agency. In these conditions, it is obvious that from now on the executive agencies will never have the possibility of recruiting young trainees …
Needless to confirm that DG HR refused any real negotiation of this issue with unions: "le fait du prince" (or princess) is self-sufficient!
It is not even necessary to confirm that no real negotiations have been organized on this issue as DG HR increasingly confused social dialogue with psychotherapy sessions offered to staff representatives to explain their project and convince them of the lack of merit of any possible criticism. So, again for this dossier, after the few adjustments made to the original proposal, DG HR services have been limited to illustrating all the merits of their project and trying, of course without success, to dispel fears expressed by unions, in simple social dialogue meetings, excluding from the outset any possibility of consultation and therefore of negotiation
In order to try to justify its project, DG HR suddenly discovers the limitations of the procedures organized by EPSO which it had hitherto always denied…
The peak of the dialogue parody organized on this project was reached when DG HR services, after having rejected for years all criticisms concerning the model chosen by EPSO for the organization of competitions, were suddenly illuminated by a mysterious divine light – perhaps during a mission in Damascus … – and now justify their "innovative" project by invoking the limitations of the current EPSO competitions. The latter are now described as lotteries where candidates are called to mark boxes and which do not allow the recruitment of candidates, and notably of young colleagues, who meet the expectations of the institutions
…. but instead of profoundly reforming these procedures as R

&

D has asked for a long time …
Let us be clear: R&D has always denounced the limitations of the procedures organized by EPSO while DG HR has so far totally denied them!
Because of DG HR's role on the EPSO board and the fact, which it pretends to forget, that since the creation of this office, the EPSO management has always been provided by colleagues from the Commission and more particularly from DG HR (sic!), our institution has had all the possibilities to propose the necessary reforms.
… DG HR is inventing "house made procedures" … while making sure that they will not be "phony"!
By rejecting the invitation of R&D to abandon its "Young-Junior Professionals" project in order to launch a joint reflection with a view to correct EPSO's practices and to reform in depth the organization of competitions to better meet the institutions' needs, DG HR has decided to continue its project by inventing "house made" recruitment procedures… while taking care to reassure us that they will not be "phony"!
The Commission is thus resigning its role of guarantor for the Staff Regulations and the principles on which they are based, and sets a very bad example for the other institutions…
With this more than questionable decision the Commission resigns its role of guarantor for the Staff Regulations and the principles on which they are based.
Worse, it sets a bad example for other institutions by inviting them to follow it, while they have already demonstrated in turn all their "inventiveness" to create "tailor-made" procedures.
Is it also about a tug of war between institutions in connection with the future management of EPSO?
Some have pointed out to us that DG HR's decision to organize these internal recruitment procedures, suggesting that the Commission could gradually withdraw from EPSO, would also aim at increasing the pressure with respect to the procedure for appointing the new Director of EPSO, which has been stagnant for many months, on other institutions which, as we learn, feel that they are being held hostage in a power struggle between Commission and Parliament!
Conclusion
R&D is now asking the Commission to suspend the "Young – Junior Professionals" programme and to start real negotiations with the unions.
In addition, R&D will continue to oppose it and reserves the right to initiate any legal action.
In the meantime, R

&

D remains alongside our colleagues by strengthening its usual training activities which are extremely successful, and will continue to support trainees who are not among the "happy few" by organizing free EPSO training courses for ALL trainees so that they can integrate our Civil Service in transparency and with dignity.
This is also to make sure that they can leave our institution without yielding to the feeling of disgust which has been creeping in, as we have learned, since the announcement of the "Young-Junior Professionals" project.
The first completely free training cycle was held on 4, 5, 8, 15 and 29 May and was a huge success. This, of course, without the slightest obligation to join R&D . Soon, new training courses for trainees will be organized.
For any information about our courses, please send us an email to: OSP-RD-FORMATION@ec.europa.eu (Brussels) and OSP-SE@ec.europa.eu  (Luxemburg). Our teams are there to support you!
 Cristiano Sebastiani
President