R&D alongside Swedish colleagues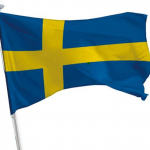 Following the tragic event on Monday 16 October 2023, many of you expressed your concerns about the risk of further terrorist attacks in Brussels.
We would like to express our deepest sympathy to the victims, to ALL victims of any terror attack and more particularly, on this occasion, to all Swedes, including our colleagues working in the EU institutions.
Indeed, On Monday 16 October 2023, two Swedish citizens lost their lives in a terrorist attack in central Brussels. The victims were targeted because they were Swedes.
We know terrorists can't win – but the Swedish flag is not to be flown now, the Swedish language is not to be spoken in public, also by our Swedish colleagues and their loved ones, all because of fear of terrorists.
Let's not go 'back to normal'. Not just yet.
We ask the Commission to fly the Swedish flag in front of the Berlaymont building to show sympathy and support for the victims, their families, Swedes in Belgium, Sweden, and around the world, and all those who have lost their lives because of terrorism.
You can rest assured that we remain in constant contact with our administration and with the services in charge of our security.
Feel free to contact R&D team if you need any help or just want to have a chat.
Cristiano SEBASTIANI,
President