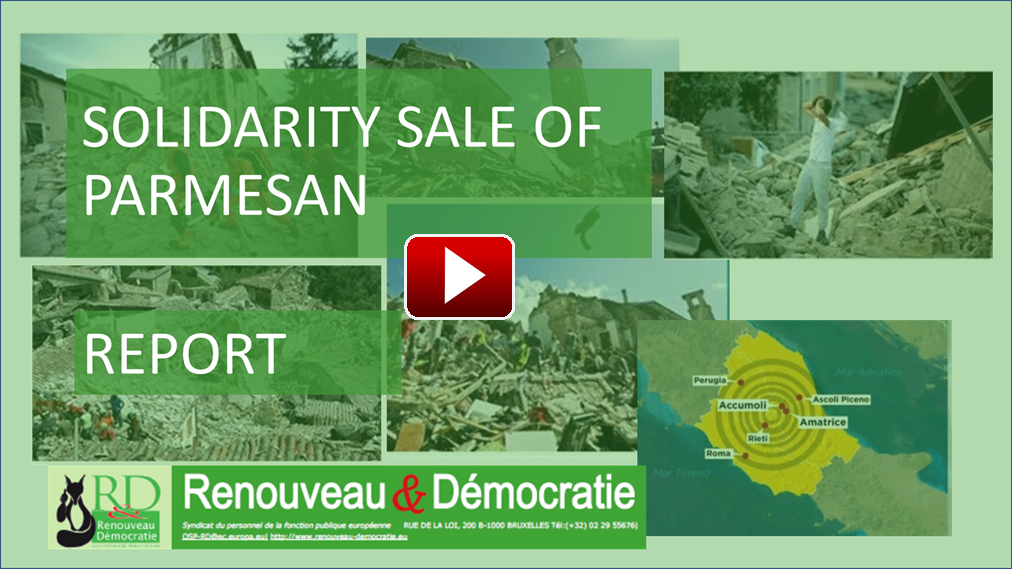 DO NOT MISS THIS VIDEO "SOLIDARITY SALE OF PARMESAN-REPORT"  CREATED ESPECIALLY FOR YOU !
YOU CAN DISCOVER IN IMAGES THE UTILITY OF YOUR DONATIONS
SEE THE VIDEO
4115 THANKS FOR YOUR SOLIDARITY
Dear colleagues,
On 17 May 2017 (read) R&D launched a "Solidarity Sale of Parmesan" by appealing to your generosity and solidarity, in order to assist victims of strong earthquakes that had hit the centre of Italy, especially the shepherds producers of Amatrice's Pecorino
Punto Latte ( read ), a family business with a "short supply chain", that is to say using for the preparation of Parmesan only the milk of its own production, winner of several international awards for the quality of its PDO "Parmigiano Reggiano, of which the silver medal for 24-month parmesan cheese at the PDO cheese world competitions in 2015, 2016 and 2017 ( read ), also affected by an earthquake in May 2012, has exceptionally offered for sale parmesan at the price of € 12,80.
In order to help the producers of Pecorino, we invited you to participate in the fundraising campaign by donating at least € 1.20 per kg.
R&D made a commitment to double match all donations received in order to obtain a donation of € 2.40 for each kg sold and to take care of the shipping costs..
R&D also promised to prepare and present to you a detailed report on the Solidarity Sale.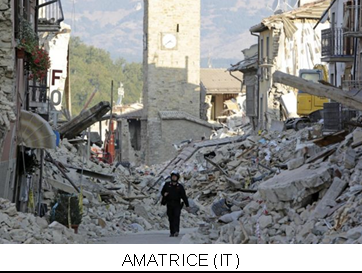 Amatrice and nearby villages hit at their heart and completely destroyed
The toll of this natural disaster weighed heavily on this region:
1,800 people affected
Nearly 400 injured
1 inhabitant out of 5 died
Inestimable damage of nearly 4 billion euros
Shepherds and artisanal producers of Pecorino cheese have lost virtually everything
Balance sheet
Thanks to your generosity, we were able to collect € 12.008,52 donations distributed as follows:
Your donations (€1.20€)   =        €4.941,44
Donations R&D  (€1.20€) =        €4.948,84
Additional donations         =         €2.118,24
Sales and donations details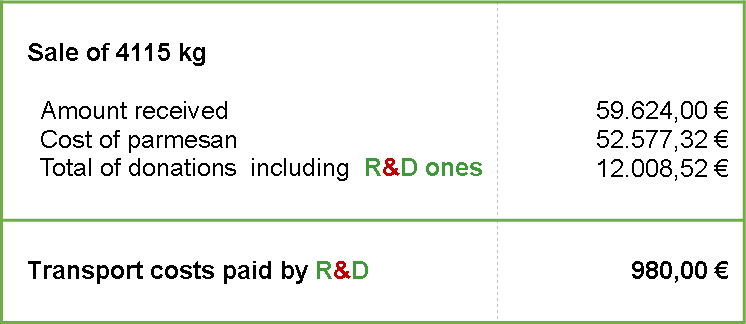 Who are the beneficiaries of your donations?
Shepherds, artisanal and organic producers of Pecorino in Amatrice grouped under the name "Consorzio di tuela Amatricaino, i l pecorino dei monti della Laga".
They were the most affected by the different earthquakes.
In order to protect their livestock, the shepherds stayed with their sheep flocks in extreme conditions while all the inhabitants had been evacuated from the affected areas.
Despite the daily difficulties, the shepherds continued to produce Pecorino by hand and thus perpetuate the tradition
Where did your donations go?
Your donations have provided forage (healthy feed for livestock) to 5 artisanal and organic farms. The type of the donation and the time of delivery were chosen in agreement with the local producers.
Amatrice's economy is based exclusively on the agri-food and tourism sectors. Today, the tourism sector is deserted. Only the sale of handicrafts helps small producers.

Unfortunately, a lot remains to be done….
This former tourist region is struggling to recover at the disadvantage of small producers who no longer find buyers for their local products, due to the lack of tourists.
This is why they once again asked for our help, in order to allow them to sell their cheeses.
Without hesitation, R&D is committed to organise a new solidarity sale to help all these small producers who live only on their own production.
In the coming days, you will receive an invitation to order several kinds of Italian cheeses including Parmesan and Pecorino!
We are counting on your generosity which no longer needs to be proved and we promise to present to you a detailed report on all these solidarity actions.
THANK YOU SO MUCH FOR YOUR SUPPORT!