R&D is organising a
NEW SOLIDARITY SALE OF PARMESAN
Since 2017, together we have been able to help victims overcome their daily lives by raising over €40,000 in donations. Thanks to your generosity, we have helped the victims of the powerful earthquakes in Italy and more recently the victims of the war in Ukraine.
THANK YOU FROM THE BOTTOM OF OUR HEARTS!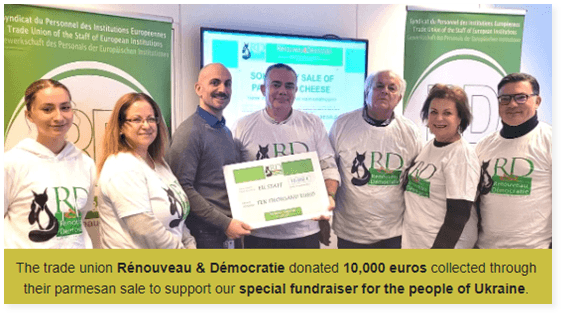 Many of you have asked us to organise another solidarity sale, and as always R&D remains at your service. All the more so when it comes to translating our commitment to solidarity into action, and solidarity is always at the heart of what we do.
To give staff every guarantee that their donations will be used effectively, we deem it important to entrust them to organisations made up of and run by colleagues, just like R&D, accountable at all times for the use of the funds received.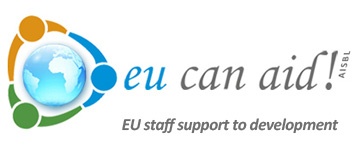 Eu can Aid project ( www.eucanaid.eu )
· Helping the victims of the earthquake in Morocco
The Parmesan cheese which is the subject of this solidarity sale
As in previous years, and as you had asked us to do when you expressed your complete satisfaction, R&D has once again called on Punto Latte (link), a family-run company with a " short supply chain", which uses only milk from its own production for the preparation of Parmesan cheese and which has received several international awards for the quality of its "Parmigiano Reggiano DOP", including the silver medals for 24-month Parmesan at the World DOP Cheese Competitions.
The Parmesan cheese is additive-free, gluten-free and made from top-quality raw materials. It will be delivered in vacuum packs of about one kilo and can be stored in the refrigerator for several months.
"Punto Latte", sensitive to the various causes we support, has decided not to increase its price despite the economic crisis, and to supply us with a product of exceptional quality!
Thus, the final price will be 17.5 € per kilo of parmesan including your 2 € donation.
This is a basic donation proposal,
if you wish, you can contribute more generously and support our ongoing projects
Practical instructions for participating in this solidarity sale
If you wish to order PARMIGIANO REGGIANO, we invite you, before 30 OCTOBER 2023, to :
1. make the corresponding payment of 17.5 € for each kilo purchased (if you wish, you can increase your donation) on the account BE26 3101 1895 5129.  For the smooth processing of payments, please use the following reference:
Solidarity Sale Parmesan – Purchase of ( X kg) -your name, first name and telephone number
2. place an order by filling in all the fields of the form available online on our website ( 
LINK
)
Only orders placed via this form will be taken into account.
The order will be definitive only upon receipt of your payment
The delivery of the Parmesan cheese is scheduled for the second half of November, to the Commission in Brussels only.
You will be informed in due course of the practical arrangements for collecting your orders.
The exact dates for collecting your parcels will be confirmed by email.
We would like stress that R&D is not making any financial profit whatsoever from this operation and will cover all transport costs.
In addition, with the help of its team of volunteers, R&D will manage all the logistical aspects up to the reception of each colleague who comes to collect his or her parcel.
As with previous solidarity sales, at the end of this initiative we will make public the accounts, including full details of the sale and the amount of donations raised.
THANK YOU SO MUCH ALREADY FOR YOUR GENEROSITY!