R&D has always played a role in the promotion exercise to assist you in your career.
Please find here after the french version of the tract :
Premier bilan de l'exercice de promotion 2012
L'exercice de promotion 2012 vient de se terminer avec la publication des listes des fonctionnaires promus cette année. R&D vous livre ici une première analyse de ce nouveau système de promotion.
Ce qui a marché: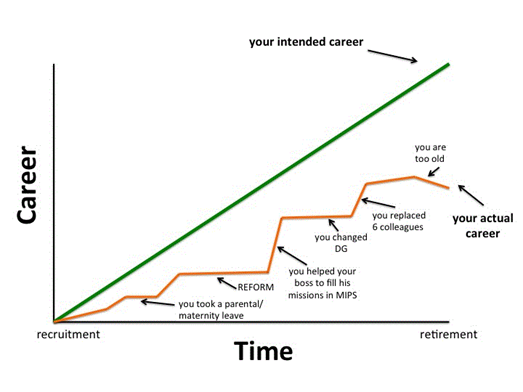 – la mesure de transition: moins de 1% des fonctionnaires concernés par la mesure de transition (c'est à dire les fonctionnaires à moins de 6pts du seuil de promotion 2011, ou à 6pts avec une moyenne sur les précédents exercices d'au moins 6 points) n'ont pas été proposés par leur DG. Ces non-propositions ont été étudiées en détail par les Comités de Promotion qui ont réincorporé aux listes de promotion certains de ces dossiers.
– les rencontres avec les directeurs généraux: les représentants du personnel ont rencontré tous les directeurs généraux qui leur ont expliqué les choix effectués dans chaque grade. Ces échanges ont permis aux représentants du personnel de suggérer des modifications, dont un certain nombre ont été prises en compte par les DGs.
Ce qu'il faut surveiller:
– les dérives "élitistes" observées chez certaines DGs qui ont proposé à la promotion des fonctionnaires avec très peu d'ancienneté dans leur grade, alors que dans le même temps des fonctionnaires méritants avec une ancienneté normale n'étaient pas retenus.
– le calcul des nombres de promotions par grade. En début d'exercice, la DG HR a calculé le nombre de promotions allouées à chaque grade. L'analyse de ces quotas a montré une grande disparité selon les grades: certains de ces grades ont été sous-dotés et un nombre important de fonctionnaires qui avaient des attentes légitimes (ancienneté dans le grade importante, -6 ou -7 points du seuil de promotion) n'ont pas pu être promus.
Ce qui est regrettable:
– plus d'une cinquantaine de collègues n'ont pas pu être promus parce qu'ils n'ont pas démontré leur capacité à travailler dans une troisième langue. Cela concerne dans la quasi totalité des récents recrutés AST et AD. Les ressources humaines doivent insister auprès des nouveaux fonctionnaires sur la nécessité de suivre les formations linguistiques s'ils se trouvent dans ce cas de figure.
– l'allocation rigide de quotas aux Comités de Promotion: ces comités qui examinent les appels des fonctionnaires non promus se sont vus allouer des quotas de promotions par grade. Le peu de flexibilité accordé à la gestion de ces quotas n'a pas permis à ces comités de proposer à la promotion des fonctionnaires méritants.
R&D a suivi et défendu les collègues dans toutes les étapes de ce nouvel exercice de promotion. Une étude chiffrée de cet exercice sera publiée très prochainement sur le site de R&D.